Design & Development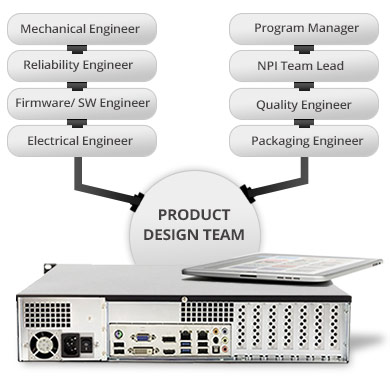 Successful Design Program requires that a wide range of issues are addressed right at the beginning of the product development cycle. It is important that a good hardware platform is selected but, more important is that it's a complete solution and meets long term objectives.
We understand that our customers have a wide range of issues which they need complete control over, issues such as performance, price, custom configuration, proper logistics and order fulfillment, support and warranty, end-of-life issues such as technology refreshment and product recycling are just few to mention. For an ISV customer whose primary business is selling software these could be very tough questions. This is the reason why Iron takes full responsibility as a partner, and we guide our customer through these issues by planning and providing information before hand.
Our partnership is meant to provide the type of services to our ISV customers that they think of us as an extension to their operations, where Iron is "a virtual extension" to their organization.
Iron differentiates itself by providing an integrated, product realization approach to its diversified customer base.
Design Engineering Services
Iron Systems is a full service manufacturer providing an extensive range of value-added services from design engineering to project management lifecycle.
Flexible service options can be customized to meet the requirements of a specific platform application or a long term integration project. Our experienced design engineers, technicians and field application engineers design high reliability solutions based on Intel architecture and roadmaps.
Through adherence to ISO 9001:2008 , customers are assured of quality designed systems that meet stringent industry and international compliance regulations.
Iron provides specialized service offerings based on your application requirements in the areas of Appliance Product Realization, Application Analysis, Program Specifications, High-Level Requirements, Design Plan, Sourcing, Assembly, Integration, Configuration Management, Software Image Loading, Branding, Prototyping, Support Plan, Work Instructions, First Article, Customized Documentation, Performance Tuning, Test Procedures and Asset Tagging.
Server and Rack-Appliance Design: Iron offers full product design services for OEMs with a focus on delivering flexible solution choices and innovative technologies for extreme performance, outstanding scalability, reliability and security. Iron specializes in high-reliability server design for mission-critical applications in the areas of Enterprise Class, High Availability Servers, Storages and Blades. Additionally, Iron Systems provides complete design, integration, and test services for rack assemblies utilizing COTS or fully custom solutions to meet your requirements.
Industrial Product Design: Iron Systems provides full-service contract design services with over decade of experience working in IT infrastructure solution business. Our design engineers understand the importance of ensuring that cooling and air flow work together to deliver optimum performance. By focusing on designing the right system layout and configuration we are able to keep production costs low without sacrificing overall reliability. Specializing in product design, development and prototypes, Iron provides industrial design services including product styling, configuration layout, component specifications, mechanical design, and product documentation. It includes: Conceptual sketches , Control drawings , Models, Digital mock-ups , Computer generated color renderings , Prototypes , Rapid prototyping, Materials selection , Component sourcing , Manuals and documentation support.
Project Management: Iron's design services, targeted early in the project lifecycle, fully assess a customer's environment and provide valuable information for optimizing the production environment and detecting areas of vulnerability in addition to system development, testing, fielding, sustainment and training.
Extensive Design Expertise: Iron provides complete design, engineering and manufacturing services. When a standardized off-the-shelf platform can not serve as the basis for a solution, we can design a system to exact specifications. Custom designs and modifications to our existing designs are Iron's specialty.
Prototyping Models: The benefits of Iron's top-quality prototypes are numerous and their value can not be over-emphasized. Whether it is for proof-of-concept, software development and testing, or to validate a potential technology platform change, a fully-functional prototype can speed the product development and rollout process. Iron's engineers work directly with customers to produce systems to exact specifications.
Product Configuration and Testing: Iron offers a full suite of design and testing services to meet critical project requirements. The Company's experienced design and test team's commitment to quality ensures a worry-free design and testing experience. In addition, Iron can provide all documentation, submit results, and manage the entire certification process.
Product Compliance Testing: Iron can provide all documentation, submit results, and manage the entire certification process. In addition, Iron has expertise in the following compliance and regulatory areas: UL, EMI, Emissions, FCC, CE, VCCI.
Product Rapid Shipment: Iron keeps most basic prototype platforms in stock. Usually, prototypes can be shipped within 10 business days of initial design sign-off. Iron can provide one-stop global logistics solutions by leveraging our expertise in distribution, transportation, trade compliance and returns management to support customer-specific requirements.
Product Enhancement and End of Life: When parts become obsolete, forcing a re-design, Iron engineers work to ensure the highest levels of backward compatibility are designed into the new system through regression testing.
Product Quality and Reliability: Iron Systems follows a rigorous ISO 9001 and TL 9000 registered design process to maintain consistency and high quality.
Time to Market: Iron engineering project managers monitor design process milestones and ensure on-time delivery to project schedules.
Product Branding and Launch: Moving a software product onto an appliance has serious branding ramifications, Iron can help define the branding of products for name recognition, market focus, and other considerations.
Six Steps to Appliance Product Development Cycle
Iron's quality management system incorporates a formal product realization process for taking a new product from conception to full production and post-sales support. There are six major stages to Iron's Appliance Product Development Process:

Requirement Gathering: Our Product Management and engineering staff works with the customer to gain a complete understanding of the application software and its environment, and to help define hardware requirements. We then configure a system which forms the basis of a preliminary high-level requirements document (HLR) created by our Engineering Department. A written proposal is submitted which outlines the planned schedule, deliverables, costs, warranty, support, branding, and all other relevant issues. Upon customer acceptance we move into the planning/design phase.
Planning/Design: The HLR is finalized with details that serve as the preliminary Technical Design Document and as the Customer Requirements Checklist against which verification and validation are performed.
Development: Product development work commences. An early prototype is produced which has the same internal components as indicated in the HLR. Some of the other product elements may be missing or different however, the goal is to get early concurrence on the fundamental product under development.
Prototype: Prototypes are thoroughly tested for form-fit and operating system compatibility. The prototype is subjected to extensive thermal testing, ensuring adequate cooling for all internal components. We also use the customer's functional test scripts to run "close-to-real" testing. During the development stage we create detailed work instructions for the final production units and design customer packaging materials. The prototype appliance must be approved by the customer, before any further development is performed.
First Article: When the prototype is accepted, Product Management and Engineering completes development and delivers the first article for final verification and acceptance. The appliance is assembled and tested using the work instructions written during the development phase. Thorough quality checks are executed and quality control documents are finalized.
First Customer Ship (1st Build) & Production: Production commences when the First Article is accepted by the customer. Product Management and Engineering will prepare and transfer to their production counterparts all material and information necessary for volume production in stages. The production staff will receive training on assembly, test, and burn-in procedures. At this point, the Program Management team will assume responsibility for the project and manage day-to-day operations as well as become the "point of contact" for customer communications.
Product Branding:
Moving a software product onto an appliance has serious branding ramifications. Iron can help define the branding of products for name recognition, market focus, and other considerations. Knowing that product launches or branding changes are time-critical and require both creative and design engineering skills, Iron's design team works closely with OEMs to ensure that all the pieces of a product launch or branding project happen on-time and within budget.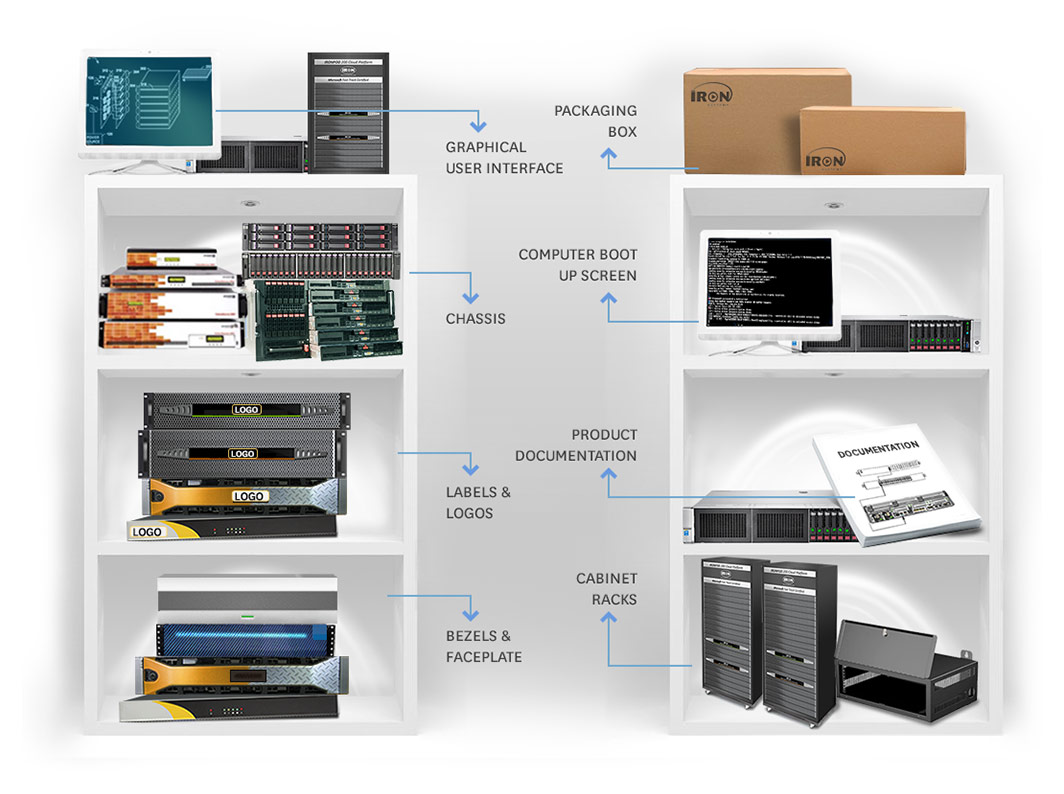 The appliance must look and perform like it was made specifically for the software it is running. From the corrugated cardboard shipping box, to the start-up guide, to the color of the chassis, to the appliance set-up screens, they all need the same look and feel as the application software and the company whose name is on the label. In today's fast maturing world of high technology, branding is a crucial component in the success formula for any new product offering.
Appliance branding starts with labeling the shipping container and the appliance itself. A great job here ensures the right first impression with customers. A merely ordinary job represents a wasted opportunity that can't be regained. The front bezel is particularly important, because it will continue to be your company's visual optic for the life of the appliance. Iron offers a large selection of custom bezels that can be designed with the customer logo, model number, color & texture, etc.
Branding can be customized all the way through to the welcome screens, start-up guide, peripheral accessories and any accompanying marketing brochures, quick-start guides and documentation. We ensure that your users out of box experience is unparalleled.
Bezels & Faceplate
Labels & Logos
Chassis
Packaging Box
Product Documentation
Cabinet Racks
Computer Boot up Screen
Graphical User Interface
New Product Introduction (NPI) Program
Iron realizes the critical importance that New Product Introduction (NPI) plays in optimizing a new product's time to market. When we help customers launch complex products, we can provide substantial engineering, technology and manufacturing expertise to achieve that customer's vision. At Iron, we have extensive experience with design, quick turn prototyping, product verification, volume production and logistics.

Iron suite of NPI Turnkey services includes:
Platform Design & Development
Product Hardware Configuration Planning
Prototyping & First Article
System Integration & Test Plan
Supply Chain Planning
Global Logistics
To ensure a smooth product launch, we not only deliver our customers' products on time, we provide them with detailed feedback on what can be done to improve product quality and manufacturability.
NPI Fastrack, Fastest time to Market …
Our approach to NPI focuses on "time to opportunity" – that is, a relentless focus on predictability, high quality and flexibility. We call this "NPI Fastrack." It's a term that defines our approach to delivering on a deadline for customers who are looking for quick turn prototypes and final product release. Standard turnaround times are between less than 45 days.
Copyright © 1996-2013 Iron Systems, Inc. All Rights Reserved.