About Ironsystems
IRON is a leading provider of purpose-built, application-specific, server-appliance and embedded systems platforms. We provide product lifecycle management services for networking, storage, security, medical and communications markets worldwide.
Our team is best known for our innovative customer specific solution design, integrations, supply chain management expertise, and unique deployment capabilities – all backed by global technical support and maintenance services.
IRON offers everything modern software developers need to deploy their application as a complete platform solution.
Based on our engineering expertise, rigorous QA process, manufacturing scalability, and ISO certification, IRON is here to support your OEM/ODM project throughout the entire process of design, integration, shipping, and support and allow you to focus on your core competencies and business objectives.
IRON Advantage
IRON works closely with OEM customers freeing up the valuable resources you need to focus on innovating in your market and generating profits.
Our Hardware Platforms: Designed to provide a unique approach to supporting medium to large-scale application deployments, our platforms achieve a proven advantage in the areas of open standards, ease of deployment; accelerated time to market, lower TCO and improved business efficiency.
Our End-End Services: Our comprehensive suite of services give you access to new markets, customers, partners, technologies and programs all designed to increase your revenue. IRON can help you gain a competitive advantage and exceed your expectations for end-to-end OEM solutions.
Expertise in delivering end-to-end Turnkey OEM solutions
Optimized Platforms designed to reduce time to market
Custom Design employing a holistic approach to meet specific requirements
Custom Integration to build products that meet customers' specifications
Global Logistics to help streamline shipment and reduce supply chain risks
Lower total cost of ownership
Select Customer list
Advansis
American Physical Society
Check Point
Color Kinetics
Florida State University
Indiana University
KDTV
Lockheed Martin
Morning Star
National Weather Services
Quintim Technologies
Shopping.com
The Rockefeller University
Viasat
Akamai Technologies
Boeing
Cisco Systems
Cornell University
GCI Schools
Infoblox
Kineto Wireless
MIT
Motorola
Netcontinuum
Redback
Sony Electronics
Trendmicro
VMWare
American Institutes for Research
Cachelogic
Coleman Technologies
Efficient Frontier
Harvard University
Juniper Networks
Lawrence Livermore National Labs
MCI
NASA
Nortel
San Diego State University
SPAWAR Center
UC Berkeley
Webex
Corporate Snapshot
Iron Systems was established in 1996
Headquarters in Fremont, CA.
Integration Centers: California & Texas, USA., Europe &
Asia, ISO 9001:2008 & UL / TUV Certified
Sales, Support & Development Centers: USA, Europ & Asia
Contact Us
Headquarters: 980 Mission Court, Fremont, CA 94539, USA.
Call: 408.943.8000

Website: www.ironsystems.com Email: sales [at] ironsystems.com
Our Products & Services
Ready to Ship, Pre-Certified Turnkey Server-Appliance and Embedded System Platforms
IRON has the expertise and services to deploy your application as a complete hardware appliance. IRON offers a wide range of pre-certified, custom-branding ready physical form factors to help you rapidly bring a specialized custom solution to market.
Complete Product Lifecycle Management
Managing the lifecycle of hardware platforms is a challenge whether you do it in-house, or outsource it. IRON provides complete lifecycle management services, including managing components, bill-of-materials, procurement, inventory, and eliminating dreaded end-of-life issues. This cradle-to-grave approach ensures our customers have the flexibility to not only compete, but thrive in an ever evolving market.
New Product Design & Project Management
IRON provides dedicated in-house project management support to direct every OEM platform project from development, through fulfillment and support Our services includes managing the design effort, mock-ups, 1st article production, first customer shipment, release to volume manufacturing, and managing manufacturing schedules. Our services are designed to produce a faster to market cycle. Earlier to market results in an improved market share and profit margins for our customers.
Integration, Testing & Quality Management
IRON is an ISO 9001:2008 certified manufacturer with a deep commitment to quality. IRON has the manufacturing capacity to handle your platform business whether you plan to ship tens, or thousands of units per month. IRON provides unique forecasting, software image control, engineering change order, custom configuration management, software builds, and image loads for every OEM platform. This allows your product development resources to focus on developing new products and confidently leave the rest to us.
Direct Order Fulfillment, Warehousing & Global Logistics
All IRON OEM customers are provided with an easy-to-use order management portal to manage their inventory assets and shipments. The end result is a closer supply to demand modeling tool which provides a shorter product lead-time and significantly increases material turns.
Reverse Logistics - Extended Warranty and Repair Services
Tracking warranty status, and providing warranty and non-warranty repair services are challenging for many solution providers but not for IRON. We provide a complete set of services in this area, including hardware and software failure analysis, warranty replacement services; depot repair, refurbishment programs, and system upgrade programs. Our customers enjoy the benefits of increased end-customer service while at the same time reducing inventory excess and obsolescence.
Markets We Serve
Iron is a Market Sector diversified organization whose strength is complex, high reliability, high-tech products. Iron understands the unique requirements technology companies in each of our Market Sectors have and are well positioned to fulfill these needs.
Whether a product is Networking or Communications Server, Medical, Industrial/Commercial, or Defense/Security/Aerospace, Iron will help provide a competitive advantage in your marketplace through innovative global supply chain solutions, and agile/flexible manufacturing capabilities supported with industry leading engineering capabilities.
Medical
Wall-mount Computers
Computer Carts
Server/Diagnostic Appliances (1-4u)

industrial automation
Custom Enclosures
Control Servers/panels
Branded Appliances

defence & aerospace
Ruggedized Laptops/Servers
Complete Rack Assemblies, Cluster
High Reliability Solid State Design

survelance & dVR
Ruggedized Servers w/ RAID
Complete Rack Assemblies
High Reliability Solid State Designs

media & tV
Video Editing/Broadcast Workstations
SAN, NAS, JBOD, FC Storage
Complete Rack Solutions

kiosk
Stand-up or Wall Mount
Embedded OS (Windows/Linux)
Secure, low-maintenance

Enterprise IT & Communication
Custom Appliances (1-8U)
NEBS, UL, FCC Certified
Complete Rack Solutions

embedded & digital signage
mITX Form factors
Video/Audio Distribution
Wall Mount/Custom Mount

Leading Technology Partnerships
We connect leading hardware vendors to help our customers bring their products and solutions to end users of all sizes.
In conjunction with our partners, IRON creates end-to-end industry-leading solutions for our customers. Our partnership model gives us the ability to be flexible and respond to your specific needs, regardless of whether you are a global enterprise or small business.

Our partner relationships help us create out-of-the-box; innovative solutions for end-users who need to achieve high performance, scalability, and reliability at a competitive cost.
Our History
Iron Systems, Inc boasts of being a unique type of organization leading diversified OEM product integration market-space. Its strength comes from two decades of industry experience and domain expertise which allows it to handle product complexity and quality at lowest cost. Through it all, it's our people - customers, business partners and team members - who keep us moving through the rapidly evolving world of technology.
Iron' goal is to meet its customers' unique business requirements on a global scale; and provide them with the highest level of quality, value and services.
Iron' policy is to continually improve its methods and services to support its growth plans and maintain the highest level of client satisfaction.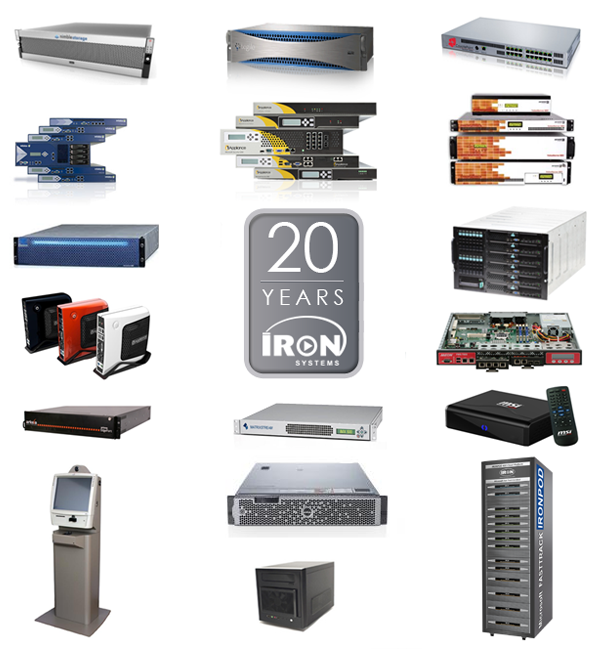 Copyright © 1996-2016 Iron Systems, Inc. All Rights Reserved.