Dual Controller Platforms - Storage Servers SBB
3U SBB Platform: Mission Critical Storage Solution from Supermicro
Innovative, fully redundant, fault-tolerant "Storage Cluster-in-a-box" system.
Dual, hot-swappable dual processor serverboard canisters for all active components.
Supports 16x 3.5" Hot-swap HDDs (SAS or SATA*) with the option to expand by using multiple 16x 3.5" SBB JBOD
Dual 10GbE connection between the Serverboards via the midplane:

If one serverboard fails, the other serverboard is able to take over control and access the HDD's (both controllers can also work as Active-active mode), keeping the system up and running.
Storage software is the key to enable this feature, which is available from several Supermicro's partners.

High-efficiency redundant power supplies and redundant cooling fans, the SBB storage server is a highly-available, high-reliability storage system at a competitive price.
Super SBB Storage Server: Key Features (SYS-6036ST-6LR)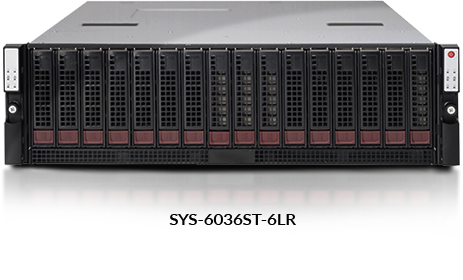 3U Mission critical storage server
High Density: 16x 3.5" hot-swap SAS(2)/SATA* HDDs - up to 32TB
Fastest Storage: 6Gb/s SAS 2.0
Robust Data Availability:

Shared storage between redundant controllers
Redundant power supply and cooling system

Greener Storage:

Gold Level (93%) efficiency power supply
90%+ VRM power efficiency
Super SBB Storage Server: Key Components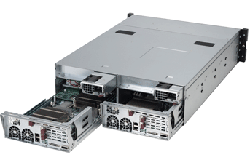 SBB Chassis: SC937ETS-R1200NDBP
3U Rack mount storage chassis
Midplane - Controllers' connections via midplane, dual 10GbE LAN & IPMI
Power supplies - PWS-1K21P-1R (80 PLUS Gold Level Certified)
Redundant controllers - X8DTS-F
Hot-swap cooling system
Mezzanine options: AOM-SAS2-L8 (LSI 2008 chip)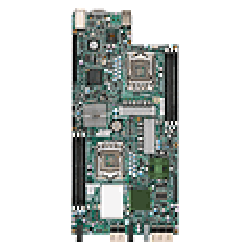 Super SBB controller: X8DTS-F
Intel® Dual Nehalem-EP Processors; Tylersburg-IOH-36D chipset
Up to 48GB DDR3 1333/1066/800 reg. ECC / 12GB unb. ECC in 6 DIMMs
SAS2 support with x36 expander & LSI 2008 / 2108 controller options
3x PCI-E Gen2 slots - up to 3 add-on cards for host I/O connectivity
Onboard BMC for IPMI 2.0 support
Internal ports: one USB Type A port & one SATA DOM port
External ports: dual GbE LAN ports, KVM connecter (1 COM port, 2 USB, VGA), & one 6Gb/s SAS2 port for cascading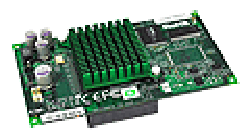 SAS2 Mezzanine Card: AOM-SAS2-L8
LSI 2008 SAS2 controller
2x performance of previous generation SAS
Best performance per Watt / Dollar SAS 2.0 solution in the market
Super SBB Storage JBOD: Scalability Option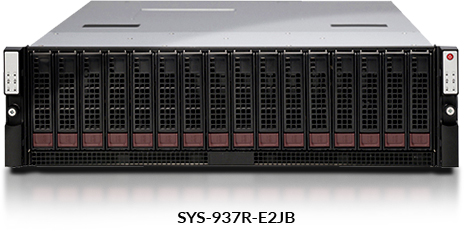 SuperSBB JBOD: SYS-937R-E2JB
Share the same chassis with Super SBB
Connect Multiple JBODs to a single SBB Storage Server
Redundant Dual Path JBOD with LSI SAS2 Expander
Hot-pluggable
6Gb/s SAS(2) / SATA support
Copyright © 1996-2016 Iron Systems, Inc. All Rights Reserved.