Quality Policy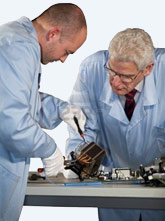 Iron Systems ISO 9001 Quality Policy
Iron Systems, Inc is totally committed to quality and always puts the customer first in all that we do. We have a quality management system that is continuously monitored and improved to ensure that all our services and products offer the highest standards of quality and reliability.
Our quality and customer focus is evident in everything we design, manufacture, test and deliver. It's this emphasis on quality, innovative technology and complete end-to-end manufacturing solutions that drives our business and provides our customers with significant competitive advantages in the global marketplace.
The Iron Systems Quality Management System is ISO 9001:2008 Certified.
Quality Policy Statement

The scope of Iron Systems business activity encompasses manufacturing, engineering and distribution of network equipment and accessories, including software configuration.
Iron Systems recognizes the need to focus its business on ensuring high quality performance throughout the organization.
This commitment to quality is based on effective and consistent operational systems, which are continually monitored. The primary goal is the satisfaction of customer needs.
It is the policy of the Company to meet this goal through the continual improvement of its activities. This improvement is achieved by establishing measurable quality objectives at all levels of the organization.
Performance against these objectives and opportunities for improvement are regularly evaluated and responded to using the company's Management Review process.
Consistently high quality performance results from a management system that provides clear standards and guidelines in all the appropriate areas of the Company's activities.
Advanced Quality Training
Quality training is at the core of our success. We utilize advanced quality personnel training featuring Six Sigma green-belt and black-belt programs. Plus, all of our global manufacturing facilities are ISO-registered and meet stringent requirements from international regulatory organizations that include environmental agencies and directives.
It is the policy of the Company that it's management system will continue to provide an effective tool to satisfy the requirements of it's customers, the specifications of the ISO 9001:2008 Quality Management Systems Standard, and all legal and regulatory obligations.
Copyright © 1996-2013 Iron Systems, Inc. All Rights Reserved.