One Global IT System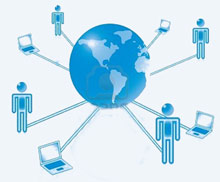 Iron is a proven Original Equipment Manufacturer (OEM) partner in high performance, cost-effective Information Technology (IT) and global integration, testing, distribution and repair services.
Our uniform IT platform spans to operations around the globe, yet is flexible enough to support regional customer requirements.
Our skilled engineers have created and deployed an architecture aligning people, processes, technologies and common standards that support integration and visibility on a global basis. Iron's IT systems deliver:
Visibility into a complex global supply chain – enabling responsive business analytics for real time decision making
Speed and flexibility deploying well engineered global logistics and configure-to-order (CTO) services
Repeatable and reliable systems allow robust customer focused programs
Adaptable
Whether your model is build-to-order (BTO), configure-to-order (CTO), or direct-fulfillment, our business-to-business (B2B) capabilities enable seamless supply chain integration on a global scale. This translates to better economic and ease of use order fulfillment. Our adaptable IT systems architecture delivers unparalleled performance against rapid turnaround demands for BTO and CTO orders.
Predictable
A single enterprise resource planning (ERP) system seamlessly connects global operations. This single platform enables us to predictably execute complex system integration uniformly in North America, Asia, Europe and India.
Our integrated supply chain and logistics platform allows for worldwide product and supply visibility. Common systems also enable smooth new product deployment and product lifecycle transitions between any of our global manufacturing facilities.
With Iron as your partner, you can rest easy, because our powerful network of people, processes and systems works around the clock to provide continuity in your global supply chain.
Integrated
Iron has a powerful array of full product lifecycle integration solutions from design through direct order fulfillment, reverse logistics and end of life management. Using techniques such as design for postponement we offer the most cost effective programs available in the market and reduce overall risk to our customers in ways our competitors haven't even thought of.
Complex B2B processes are supported by a full complement of integrated B2B services, including traditional EDI, custom XML and full web-based portal systems use. We support a full suite of international standard transactions, as well as custom transactions.
Transparent
Iron's suite of secure web portal-based applications enable easy and transparent customer interaction with Iron , including design collaboration, engineering change orders, real-time test results, order status quality reporting, product availability and order management. Our ability to deliver anytime anywhere access to critical information provides Iron customers the highest value services in the industry.
Responsive
Whether the business model is CTO, BTO or direct-fulfillment, Iron provides world-class responsiveness in supply chain management and our proven ability to deliver Adaptable, Predictable, Integrated, Transparent and Responsive IT Systems to provide global product lifecycle management solutions gives our customers a strategic advantage and differentiator in their highly competitive markets.
Copyright © 1996-2013 Iron Systems, Inc. All Rights Reserved.