Why Choose IRON as your OEM Business Partner?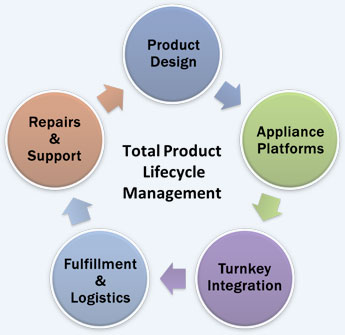 For 20 years, customers have trusted us for our innovative problem solving combined with our "IRON Holistic" business model for design, engineering, supply chain management, integration, forward/reverse logistics, and global support services.
We know you have many choices when selecting an oem system integration company. There's really more to it than just box building. OEMs choose us for the overall value we provide. Our business value gives you more than technological leadership, it provides you a true "Business Partner" which is why our OEM customers continue doing business with us for extended periods of time. Here are some reasons to choose IRON as your OEM integration partner.
Our Core Business: Embedded Systems and Server-Appliance design and integration is our Expertise
Specialized OEM Turnkey contract manufacturing services is our core business. Our expertise providing a wide range of hardware platforms integrated with end-end supply chain services, accelerated time to market and cost savings is second to none. Iron is the original and very first provider of such services in the market space. We have been shipping IT rackmount servers and storage platforms for 20 years and OEM server-appliance solutions for over 15 years.
Product Life Cycle Management Support: One Stop End-End OEM Services for better Product Management
From concept to fulfillment, Iron manages your product portfolio so you can focus on revenue generation, product development and expanding your business. We are best known for our solution design, integrations and supply chain management expertise, and unique deployment capabilities – all backed by global customer support and services
Focused on your success: Our comprehensive supply chain management services help our Customers grow their business and reduce cost
Our comprehensive suite of End-to-End OEM services and certified hardware platforms gives you access to new markets, customers, partners and technologies. Our programs are designed to increase your revenue and keep costs under control.
Increased materials availability through our volume purchasing relationships with key technology providers
Extensive experience in successfully integrating systems and processes across the supply chain

End Customers
Strategic Service Providers
Component Manufacturers
Component Distributors/Resellers
Transportation suppliers
Financial Stability: Financial strength to assume inventory ownership across product categories
20 Years Old Company
Over 200 employees worldwide dedicated to OEM services
Global Footprint: Help you build OEM Smart with a Local, Regional, Global network
With a global footprint to efficiently compete in today's marketplace, Iron, the premier technology and most advanced global supply chain solution partner assists its customers in achieving their visions. With operations network in 4 countries (USA, China, Germany and India), we're able to offer a competitive advantage in those regions of the world that make the most sense to each individual customer, and that best address their design, manufacturing, logistics and supply chain needs.
Flexible Business Model: We custom-tailor our process to suit your unique business needs
Mature, best-in-class processes for forecasting, planning, build plannings, item synchronization, order synchronization, order exceptions, expediting, receiving, put-away and inventory audits.
Dedicated customer team: Iron Systems gives you a focused OEM account team dedicated to the success of your business
We are proud that Iron has some of the most experienced and knowledgeable engineers, Quality Control staff and management team within the industry.
Stable, experienced executive team
Extensive supply chain experience
Extensive project management experience
Problem-solving culture
One System: Global IT infrastructure for expanded visibility and comprehensive reporting
ERP/MRP (order management, PO execution, EDI)
Demand planning and procurement system
Warehouse management system (serial number tracking)
Remote inventory management system
Web-based exception management tool
Automated item administration tool
Automated product testing tools
Web-based order and inventory tracking
Customer Spotlight
"We are very pleased to team up with IRON Systems. The appliance platform services helps us deliver complex EPON based broadband services more effectively, provide more immediate value and lower cost of ownership to customer worldwide."

James Chen

CTO Hitachi-CTA

"IRON's custom appliance design and lifecycle management services enable us to deliver our award winning Equalizer Load Balancing and Application Acceleration appliances more effectively. We value our decade old partnership with IRON"

Bill Kish

CEO

"IRON has the multi-vendor technology expertise and skills we trust to design, build, test. deliver and support a highly integrated, multi-Terabyte Network Storage solution for our defense customers"

Bill White

Business Operations Manager

"IRON's appliance platforms services free us up to focus on software development, sales and marketing. IRON enables us to standardize deployment controls and Offers fasters time to market."

Manoj Kumar

Director of Facilities

"IRON's appliance platforms services free us up to focus on software development, sales and marketing. Our business is to be a complete nationwide communications provider, IRON enables us to standardize deployment controls and offers faster time to market."

Joe Merrill

VP Business Development

"An Email Archiving appliance built on a robust server platform from IRON provides tremendous opportunity for channel partners and offers an affordable, plug & play solution for our enterprise customers."

Andy Khanna

President & CEO
Copyright © 1996-2013 Iron Systems, Inc. All Rights Reserved.