Turnkey Integration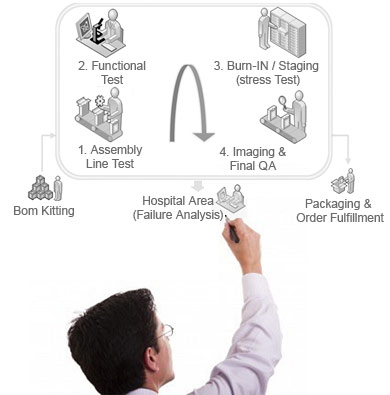 IRON is an ISO 9001:2008 certified manufacturer with a deep commitment to quality. At Iron every product is properly designed, configured to exact specifications and tested before being packaged and shipped to customers. Our on-staff quality assurance engineers use quality process control systems and sophisticated tools to build, inspect and evaluate every assembly. Our stringent System Integration Services and workflow processes are designed to maintain 99% workmanship quality.
Iron specializes in high-mix, mid to high volume custom production. IRON has the manufacturing capacity to handle your platform business whether you plan to ship tens, or thousands of units per month. IRON provides unique forecasting, software image control, engineering change order, custom configuration management, software builds, and image loads for every OEM platform.
Iron maintains worldwide manufacturing sites and can scale its production capabilities to meet any low-, medium- or high-volume production need. Our production engineers and assembly technicians are highly trained to build a wide variety of systems - from single-processor appliances to highly complex storage and blade platforms, frames and everything in between.
Turnkey System Integration Overview:
IRON has the manufacturing capacity to handle your platform business whether you plan to ship tens, or thousands of units per month. IRON provides unique forecasting, software image control, engineering change order, custom configuration management, software builds, and image loads for every OEM platform. This allows your product development resources to focus on developing new products and confidently leave the rest to us.
Iron Systems offers a full line of services to help you better design, modify, migrate and integrate your products. Let Iron Systems provide you and your customers with a full range of integration services. From purchasing to program planning to small-lot manufacturing and drop-shipping to customers, we can help you get your products to market by assisting in the time-consuming integration process, allowing you to focus on what you do best.
Iron has the ability to scale to meet customers' needs and can deliver both large and small-run productions of high reliability systems. Engineers and technicians are trained to assemble a wide range of systems from single processor servers to complex servers, storage and blade systems.
Custom Hardware Design: Multi-Vendor Integration.
Custom Software Design: Custom OS, application setup, testing and support.
Fast response: Semi-custom systems can be delivered in as little as 48 hours.
Faster Time-to-Market: Ready-to-use products and service plans.
Key Advantages:
Allocation of Resources: With Iron as an outsourced manufacturer, companies no longer need to worry about personnel resources during peak times.
Manufacturing Support: Customers have access to production forecasts and schedules throughout the production process.
Production Testing: During production testing, the final prototype specifications serve as the basis for all builds. All processes are documented using ISO 9001 reporting procedures.
Testing and Quality Assurance: Iron provides a full range of testing services. These tests are matched with the Company's ISO 9001 quality processes to ensure the highest standards of quality are maintained.
Quality and Reliability: Iron follows a rigorous ISO 9001 registered production process.
Time to Market: Iron offers inventory services to ensure the proper components are in stock. Finished goods inventories also may be kept in order to provide same-day shipping of complete systems.
Integration Services: List of Services
Integration Types
Kitting Services
Complex , Small-Mid-Large Lots
System Level Assembly
Full Rack Assembly

Global Locations
USA, Europe & Asia Facilities
Assembly Services
BIOS/Firmware Upgrades
Asset Tagging & Serialization
Custom Labeling
Asset Life Management
Custom HW/SW Configuration
Custom Packaging
Testing & Imaging
Component Level Testing
Functional Testing
Reliability/Burn-in Testing
Reliability/Chamber Testing (35C)
Linux/Windows Testing Tools
Software Imaging - Disk/System
Pre-Ship Staging Test
Test Log Audit Reporting
Quality Yield Matrices/Reporting
MFG Engineering Services
Mfg. Process Documentation
BOM Change/Revision Control
Documentation Change Mgmt.
Change (ECO) Management
Secured FTP for Image Mgmt.
Secured VPN Access
Frame Level System Integration
Our engineering staff has extensive design experience with network equipment and systems. We can assist with initial frame design, create assembly and verification procedures, manage and prototype modifications, and ensure compliance with appropriate standards.
The faster next-generation network equipment can be built and deployed, the sooner operating companies can start growing revenues from new services. Iron provides OEMs world-class, comprehensive frame level design and integration services that offer. Once the rack is integrated and tested, Iron ships the fully integrated frame in custom packaging that complies with industry standards for arrival at any site, ready for operation.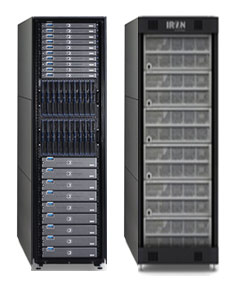 Key Benefits:
Faster deployment: dramatically decrease order-to-installation times
Tailored solutions: helps meet special requirements
Consistent quality: comprehensive testing processes and strict ISO governance
Procurement and Staging: By procuring and staging all necessary equipment prior to the start of a frame build, PDSi reduces implementation time and minimizes logistics issues. A program manager facilitates this process to ensure third-party and consigned materials are available and to expedite any in-process changes.
System Configuration: In addition to assembling and integrating components into the frame, we ensure correct installation and configuration of BIOS, operating systems, middleware and application software on each of the component platforms.
QA and System Testing: Prior to shipping, Iron performs a series of software and physical tests to ensure the system is fully operational and meets the necessary standards.
Accelerated High Temperature Thermal Testing: We perform thermal testing on individual or multiple systems and fully integrated rack enclosures both for design validation and production screening. Thermal testing for multiple systems and integrated racks can be performed in a heat room from 70° to 105° F (21° to 40° C).
System Configuration Management:
Electronic component manufacturers regularly switch hardware revisions and firmware in the middle of a production run. On the surface this doesn't sound like a huge issue, but it can be a nightmare for technicians, who end up with different computers in the exact same chassis having the same specifications. Worse yet, it can result in a near-impossible situation when the customer tries to upgrade 1,000 systems with new software only to find that systems with different components behave and perform differently.
The problem is exacerbated when it comes to BIOS settings and other firmware upgrades. OS release levels, software patches, integration testing (making sure new hardware works with the old/new software and vice versa) are additional reasons why our Configuration Management Program becomes mandatory for any project where large numbers of computer systems are expected to perform identically throughout their product life cycles.

Iron's advanced Test Plan and Configuration Management Program provides comprehensive management and version controls to track and manage changes to hardware, software, firmware and documentation throughout the computers systems entire product life cycle. Thus systems performance remains predictable and uninterrupted even during periods of hardware and software upgrades.
BOM and Document Change Management:
Iron offers the most advance Product Life Cycle Management (PLM) services that enable engineering, manufacturing and its extended supply chains to work better together—from first prototype to full-scale production to End of Life.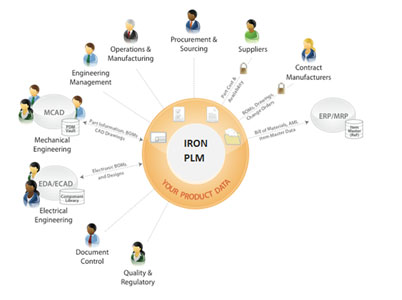 Key Benefits:
Item Management: Bill of Materials (BOM) Management and Documentation: Centralize bills of materials (BOMs) ensures that all stakeholders are collaborating around the latest version of product data.
Bill of Materials (BOM) Management: Centralize bills of materials (BOMs) ensures that all stakeholders are collaborating around the latest version of product data.
Product Documentation Management: Centralize documentation ensures that all stakeholders are collaborating around the latest version of product data.
Change Management: Change requests and change orders (ECRs & ECOs) and automated approval routings for efficient and accurate change management.
Customer and Supplier Access and Sharing: Provides secure access to OEM customers and suppliers to enable real-time collaboration and ensure that the correct design is always built.
Compliance: Ensure part, product and process compliance (such as RoHS, FDA, UL, CE and ISO9000) with compliance reports and audit trails.
Integration: Fully integrated with CAD, PDM, EDA, ERP/MRP systems for accurate data transfer.
Quality Management
The entire team at Iron Systems, Inc is totally committed to quality. We always put the customer first in all that we do. Our quality management system is continuously monitored and improved to ensure that all our services and products offer the highest standards of quality and reliability. The Iron Systems Quality Management System is ISO 9001:2008 Certified.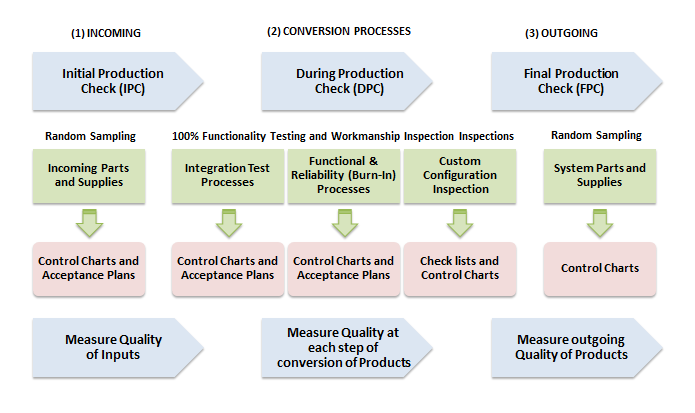 Quality Policy Statement:
The scope of Iron Systems business activity encompasses procurement, manufacturing, engineering and distribution of network equipment and accessories, including software configuration.
Iron Systems recognizes the need to focus its business on ensuring high quality performance throughout the organization.
This commitment to quality is based on effective and consistent operational systems, which are continually monitored. The primary goal is the satisfaction of customer needs.
Certificate Copy: It is the policy of the Company to meet this goal through the continual improvement of its activities. This improvement is achieved by establishing measurable quality objectives at all levels of the organization. Performance against these objectives and opportunities for improvement are regularly evaluated and responded to using the company's Management Review process.
Consistently high quality performance results from a management system that provides clear standards and guidelines in all the appropriate areas of the Company's activities.
It is the policy of the Company that its management system will continue to provide an effective tool to satisfy the requirements of its customers, the specifications of the ISO 9001:2000 Quality Management Systems Standard, and all legal and regulatory obligations.
Quality Assurance Capabilities:
An advanced documentation control system (Agile) and operational portal system that will provide and ensure that only the most current documents are being used and are guiding each operational process in a highly dynamic manufacturing environment.
Use of SPC, a three-stage quality controls process (in materials, work-in-process and finished products) ensures that the clients' quality requirements and/or specifications are fully met.
Product and Quality Engineers who provide an engineering Failure Analysis (FA) based on the clients' specific requirements and/or coordinate a FA with designated suppliers, or a third party if needed.
An advanced data recording system and real-time web-based quality reporting system that will provide the client with information about the product quality history at its specified requirements.
An effective internal quality system that processes roving audits that integrate Corrective Actions (CA) and/or Preventive Actions (PA) that help to improve the daily manufacturing operations.
EU RoHS and WEEE Directives compliant. This helps to provide assistance to clients and coordination with suppliers.
Quality Focus:
Realizing that quality is driven by the client we seek to acquire success and provide exceptional solutions and services in the following areas:
Exceeding Clients' Needs and Expectations.
Client Communication and Total Client Satisfaction.
On-Time Delivery and Customer Support.
High Quality Performance and Defect-Free Products.
Cost-Effective Operations and Processes.
Continuous Improvements to Processes both Internally and Externally.
Quality Management:
Our management's key focus is to meet clients' requirements and deliver a product that generates a high level of satisfaction. Management will continually seek to improve in these efforts by conducting a frequent measurement analysis, and evaluation of the management of our Quality Department's resources. Such resources include:
Quality System: QM Document Control.
Quality Training.
ISO Standards Compliance.
Document Support for QA and Quality Engineering.
Quality Assurance:
Quality Auditing
CAR/PAR
Client Quality
Supplier Quality
QA Reports
Quality Engineering:
SOPs and WIs
Product Quality Plans
Test/ Insp Spec./ Standards
Measurements
Metrology
FA & Reliability
Process Control SPC
Technical Instruction for QC and QA
Quality Control:
Incoming Material QC
In-Process QC
Finished Product/OOBA
QC Reports
Copyright © 1996-2013 Iron Systems, Inc. All Rights Reserved.