NVIDIA H100 GPU
The NVIDIA H100 Tensor Core GPU enables an order-of-magnitude leap for large-scale AI and HPC with unprecedented performance, scalability, and security for every data center and includes the NVIDIA AI Enterprise software suite to streamline AI development and deployment. With NVIDIA NVLINK Switch System direct communication between up to 256 GPUs, H100 accelerates exascale workloads with a dedicated Transformer Engine for trillion parameter language models. H100 can be partitioned for small jobs to rightsized Multi-Instance GPU (MIG) partitions. With Hopper Confidential Computing, this scalable compute power can secure sensitive applications on shared data center infrastructure. The inclusion of the NVIDIA AI Enterprise software suite reduces time to development and simplifies the deployment of AI workloads, and makes H100 the most powerful end-to-end AI and HPC data center platform.
The World's Most Advanced Chip
Transformer Engine: Supercharging Al, Delivering Up to 30X Higher Performances
NVLink Switch System
Second-generation Multi-Instance GPU (MIG): 7X More Secure Tenants
NVIDIA Confidential Computing
New DPX Instructions: Solving Exponential Problems with Accelerated Dynamic-Programming
Deep Learning Training
Performance and Scalability
The era of exascale AI has arrived with trillion parameter models now required to take on next generation performance challenges such as conversational AI and deep recommender systems.
Confidential Computing
Secure Data and AI Models in Use
New Confidential Computing capabilities make GPU secure end-to-end without sacrificing performance, making it ideal for ISV solution protection and Federated Learning applications.
Deep Learning Inference
Performance and Scalability
AI today solves a wide array of business challenges using an equally wide array of neural networks. So a great AI inference accelerator has to deliver the highest performance and the versatility to accelerate these networks, in any location from data center to edge that customers choose to deploy them.
High-Performance Computing
Faster Double-Precision Tensor Cores
HPC's importance has never been clearer in the last century than since the onset of the global pandemic. Using supercomputers, scientists have recreated molecular simulations of how COVID infects human respiratory cells and developed vaccines at unprecedented speed.
Data Analytics
Faster Double-Precision Tensor Cores
Data analytics often consumes the majority of the time in AI application development since the scale-out solutions with commodity CPU-only servers get bogged down by lack of a scalable computing performance as large datasets are scattered across multiple servers.
Optimizing Compute Utilization
Mainstream to Multi-node Jobs
IT managers seek to maximize utilization (both peak and average) of their compute resources. They often employ the dynamic reconfiguration of compute to right-size resources for the workload in use.
Choose the right Data Center GPU

Solution Category

DL Training & Data Analytics

DL Inference

HPC/AI

Omniverse
RenderFarms

Virtual Workstation

Virtual Desktop (VDI)

Mainstream Acceleration

Far Edge Acceleration

AI-on-5G

GPU Solution for Compute

H100*

A100

A30

GPU Solution for Graphics/Compute

L40

A40

A10

A16

GPU Solution for Small Form Factor Compute/Graphics

A2

T4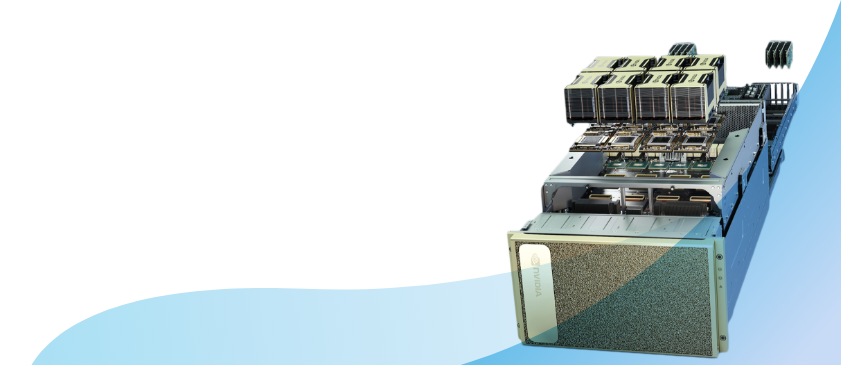 Specifications:
H100 CNX
GPU Memory
80GB HBM2e
Memory Bandwidth
> 2.0TB/s
MIG instances
7 instances @ 10GB each
3 instances @ 20GB each
2 instances @ 40GB each
Interconnect
PCIe Gen5 128GB/s
NVLINK Bridge
Two-way
Networking
1x 400Gb/s, 2x 200Gb/s ports, Ethernet or InfiniBand
Form Factor
Dual-slot full-height, full length (FHFL)
Max Power
350W

Specifications:
NVIDIA L40S
GPU Architecture
NVIDIA Ada Lovelace Architecture
GPU Memory
48GB GDDR6 with ECC
Memory Bandwidth
PCIe Gen4x 16: 64GB/s bidirectional
CUDA™ Cores
18,176
RT Cores
142
Tensor Cores
568
RT Core Performance
212 TFLOPS
FP32
91.6 TFLOPS
TF32 Tensor Core
366 TFLOPS
BFLOAT16 Tensor Core
366 I 7332 TFLOPS
FP16 Tensor Core
366 I 7332 TFLOPS
FP8 Tensor Core
733 I 14662 TFLOPS
Peak INT8 Tensor
733 I 14662 TOPS
Peak INT4 Tensor
733 I 14662 TOPS
Form Factor
4.4" (H) x 10.5" (L), dual slot
Display Ports
4 x DisplayPort 1.4a
Max Power Consumption
350W
Power Connector
16-pin
Thermal
Passive
Virtual GPU (vGPU) Software Support
Yes
NVENC I NVDEC
3x l 3x (Includes AV1 Encode and Decode)
Secure Boot with Root of Trust
Yes
NEBS Ready
Level 3
MIG Support
No

Every Deep Learning Framework