IRON - Dell OEM Partner, Creating Exceptional Value
IRON Global is proud Dell OEM Partner and leader in Global OEM Integration Services. With a rich experience of 15+ years, IRON offers advanced Dell IT technology and servers to OEM marketplace. We deliver innovative, enterprise grade products, solutions, and services on global scale.
Adding value to OEM Solutions, Maximum ROI
Maintaining total-cost-of-ownership (TCO) as prime factor, Dell OEM solutions offer tremendous value for internal business needs and excel in performance that customers demand.We adhere to Global Regulatory compliance, and provide exceptional service while achieving the maximum ROI.
Dell OEM Servers – Best in Design, Quality & Reliability
Our expert team delivers high-end single/multiple server appliances for HPC, Converged and Hype converged Infrastructure, Big Data, Hadoop, & Private Cloud Clusters. Our long-life platforms boast lifetime up to 10 years. We provide a wide range of custom branded hardware and logistics solutions.
New IRON OEM Services
Global IOR: Importer of Record services in up to 90 countries across the globe
661 Field Service Locations available all across the globe
Instant Support – 4 Hour and Next Business Day (NBD) Support available in 59 nations
Last-Mile installation and configuration carried out by expert-level & certified technicians
POC Services – Global Carnet: Achieve maximum results with faster time to market
IRON OEM/ODM Turnkey Contract Manufacturing Services
We help OEMs, ISV's, & Service Provider's create Market Leading Solutions
Global Integration, Merge, & Service Facilities
End to End Product Life Cycle Management Services
Complex integration, testing, and configuration support
Global Regulatory Compliance, Global 3rd party logistics
Make The Switch To IRON OEM TODAY
IRON has decades of experience in high tech enterprise computing, storage subsystems and embedded OEM system design services. IRON helps ISVs, OEMs and Service Providers to help solve some of the most complex product and supply chain challenges.
Read More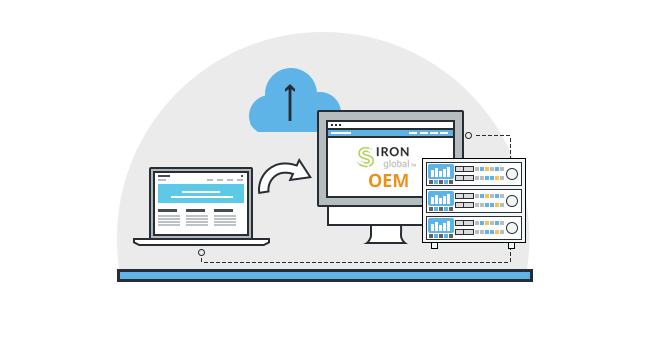 Know more about Dell OEM
Dell World 2015: Internet of Things
PowerEdge C6220 vs. PowerEdge C6100
As DELL OEM Partner, we are able to offer our customers the following benefits:

Longer roadmaps and extended product lifecycles
Technical collaboration to capture and address OEM-specific needs
Best-of-breed products
Go to market faster
Save time and money on development and regulatory certifications
Flexibility to choose the best hardware platform