IRON Big Data Appliance Platform for Hadoop
IRON Global Big Data Appliance HDPOD is a comprehensive Hadoop Big Data platform, engineered for reliable data processing with a low overall total cost of ownership. The HDPOD combines network, server and storage hardware, and the comprehensive Hortonworks Data Platform (HDP) software suite into an optimized turnkey configuration. This creates a complete single SKU solution with integrated hardware, software and support services that is simple to acquire and deploy.
The HDPOD Appliance for Hadoop with Hortonworks Data Platform is built using industry-standard commodity hardware and offers low cost, fast performance with the latest generation of Intel technology combined with a fabric-based hardware configuration for enterprise-class data storage and management. The HDPOD appliance platform helps enterprises derive value almost instantly with low project risk and cost by providing a single platform for multi-workload data processing across an array of processing methods, from batch through interactive to real-time - all supported with solutions for governance, integration, security and operations.
Hortonworks, Hadoop Data Platform (HDP): Enabling your modern data architecture with enterprise Apache Hadoop
Apache Hadoop is a core component of the modern data architecture, integrating with and complementing your existing systems to create a highly efficient, highly scalable way to manage all your enterprise data. HDP's modern data architecture provides the foundation for your own enterprise Data Lake, which is an integral part of your business strategy for unleashing analytic insights and innovations that help you compete and win in today's marketplace. HDPOD platforms provides analysts the ability to leverage valuable customer insights (across all channels; web, mobile, social media, email, contact center, database, and storefront, and other type of customer interaction data) in their analysis while using familiar tools.
Information Infrastructure Optimization, for faster and flexible application delivery and better business results.
Information Management Standardization, eliminate islands of incompatible infrastructures.
Information Insight Acceleration, faster intelligent business decisions.
Better Together: Hortonworks Hadoop Data Platform (HDP), IRON HDPOD Hardware and IRONClad Support Services
Accelerate the journey to big data using simple, efficient, flexible and open architecture IRON Global offers enterprise and service provider system designs that are reliable and energy-efficient, coupled with simplified serviceability and deployment services. Our solutions with power efficient design, high density configurations and leading-edge management software help organizations manage the modern data center and benefit from cloud and big data computing-faster and easier.
HDPOD is pre-configured and pre-integrated to achieve better results:
Hadoop Standardized Architecture: A 100 percent open source Apache Hadoop-based software stack designed to store, process and analyze data in any format at any scale.
Deep Integration: Purpose-built, low cost big data appliance that integrates hundreds of software packages including database, server, storage and big data technologies into a single, easy to manage, industry standard x86 system without vendor lock-ins.
Simplicity: Automated management and provisioning, shorter POC deployment cycles and faster time to value for analytic initiatives, allows your experts to focus on innovation.
Highly Scalable: Massively parallel analytic system allows customers to crunch through multi-terabyte data volumes.
Simplified Experience: Optimized Single SKU configurations to accelerate purchase, deployment and support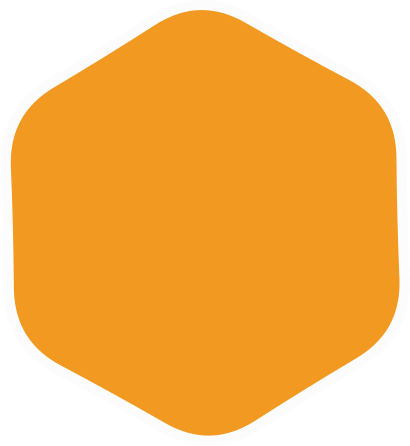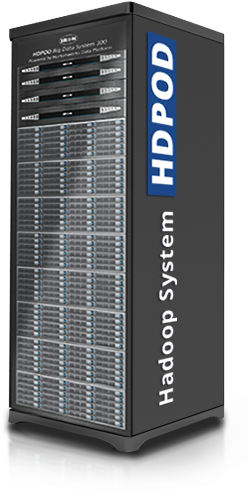 Single SKU Big Data Infrastructure
Fully Integrated Solution: Turnkey, Single vendor hardware and software solution for easy deployment
Low Cost POC Deployment: Out-of-the-Box integration cuts down setup time, helps kicks start Big Data experience in less than a day
Commodity Hardware, Reduced TCO: Up to 50% saving over traditional tier-1 Big Data Infrastructure solutions
High Bandwidth Networking: Scalable to multiple racks for multi-petabytes of storage expansion
24x7 Support Services: Expedited deployment, helpdesk support & last-mile HW replacement services
HDPOD System 200 POC Solution Overview
Hadoop deployments require customers to acquire hardware to specific configurations, racking and configuring the hardware, operating system deployments and configurations, and installation of a huge set of Hadoop software packages with hundreds of pre-requisite packages. These deployments typically require several weeks to months of development cycle.
IRON HDPOD Big Data Appliance is designed to be a Hortonworks Data Platform (HDP) powered Hadoop Proof-of-Concept (POC) platform for running enterprise data analytics environments. It is a complete Hadoop Big Data environment which helps validate big data for target business and boot straps project for a small price tag, sold as a single SKU. It is simple to install as a PC for a very small cost-> plug into the corporate network directly, power up and it is ready to use immediately.
With ~100 (300 max) terabytes of storage, and 10 (2+8) nodes cluster, the HDPOD is powerful enough to be a full-fledged data analytics platform for any enterprise; customers can realize an ROI with the first few jobs. HDPOD can be used for testing, training, and later for production as-is or migrated to larger hardware platforms as desired.

Hortonworks Data Platform (HDP) Software – Key Features:
Key Feature:
Fully Integrated Software Package: HDPOD includes stable versions of all the critical Apache Hadoop components in an integrated and tested package
Easy Cluster Installation and Management: HDPOD includes an installation and provisioning tool with a modern, intuitive user interface
Data Integration Services: HDPOD includes Talend Open Studio for Big Data, the leading open source integration tool for easily connecting Hadoop to hundreds of data systems without having to write code
Metadata Cluster Services: HDPOD includes Apache HCatalog, which simplifies data sharing between Hadoop applications and between Hadoop and other data systems
Cluster Management and Monitoring Services: HDPOD includes intuitive dashboards for monitoring clusters and creating alerts
Operating Systems Flexibility: Supports Linux & Windows Server 2012

IRON HDPOD Hardware Design –Key Features:
Key Feature:
End-End Integrated Platform: Purchase as a single SKU
Out-of-Box, Turnkey Key Solution: Hadoop infrastructure, self-contained within a 3 foot high rack. Entire Hortonwork Hadoop implementation pre-installed, custom-configured, QA'd and performance tested as complete environment at the factory
Zero IT department impact: Requires a simple connection to the corporate network with a single IP address (for DHCP boot). Hadoop environment and all hardware in rack is isolated from corporate network
Enterprise features suitable for corporate datacenters: Clustered in highly-available configurations, hot-swap hard-drives, power-supplies and compute blades for easy field service
Small Footprint: 14U, Easy to be installed in departmental lab
Enterprise-Grade Packaging: Sized for Hadoop POC engagements; suitable as complete solution for small to mid-sized companies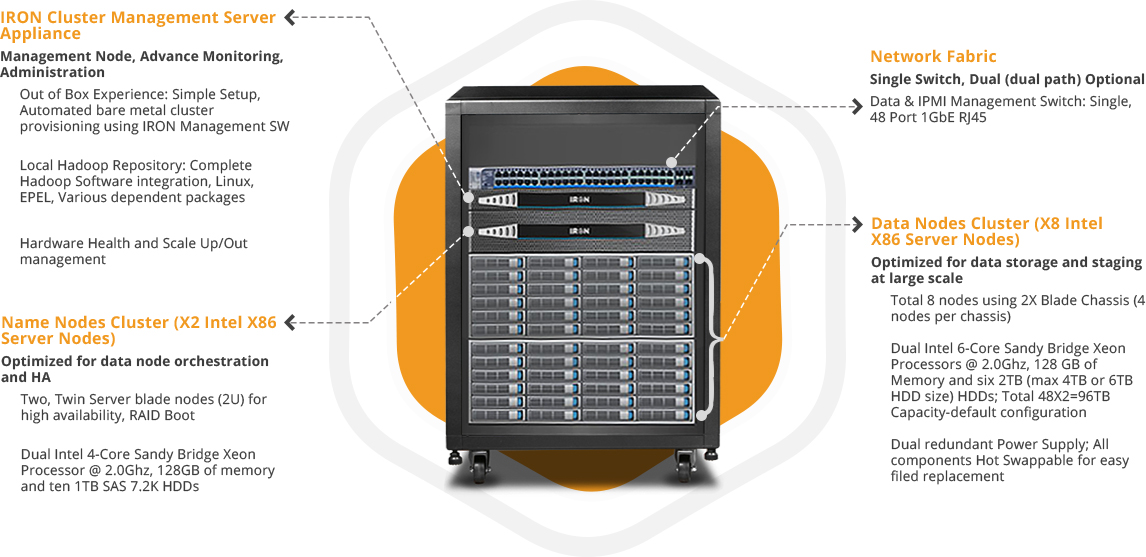 HDPOD System 300 Solution Design Architecture Overview
IRON HDPOD is designed to be a Hortonworks Hardoop HDFS powered Big Data storage platform for running enterprise data analytics environments, the design offers:
Rack-Level Resiliency:Resiliency is built into the design at multiple levels to deal with hardware and software failures; all components have N+1. The degree of resiliency is adaptable for mitigating power, network, storage and compute outages.
Modular, Scalable Storage Architecture:Balanced compute CPU, memory, network throughput and storage IOPS and capacity per rack. Multiple racks can be networked together to build scale-out modular storage infrastructure
Flexible Data Node Configurations:For Hadoop workloads, the storage to compute ratios vary from application to application; HDPOD offers multiple building block choices in 2U, 1U and half-U form factors, as well as Low Power consumption CPU options.
High Return-on-Investment (ROI):Best-in-class standardized components to provide maximum performance leveraging synergies between components that are based on open standards, reliable and scalable, allowing organizations to save on cost and help grow with business needs.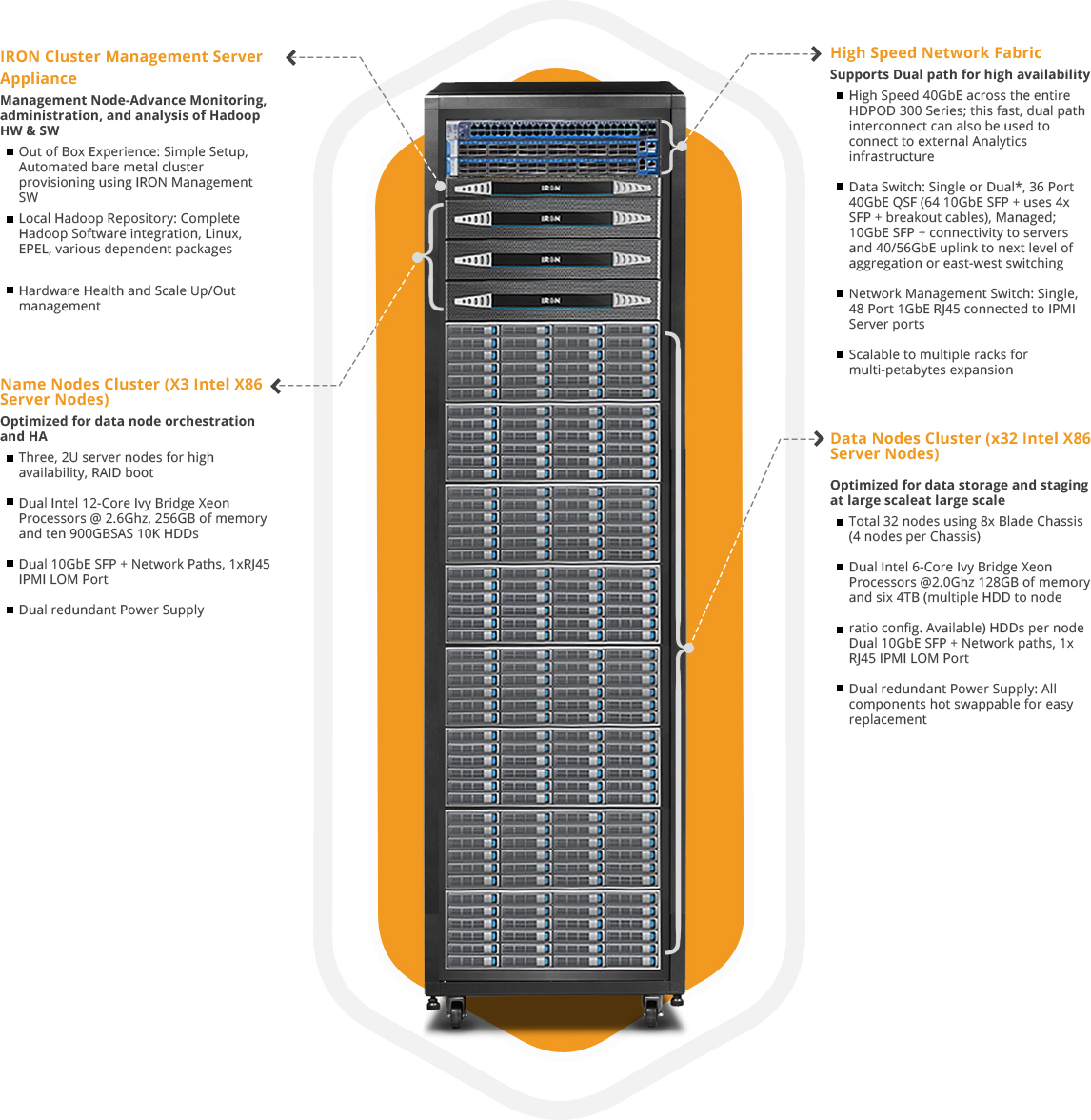 IRON HDPOD Commodity Systems: Hardware Configurations Options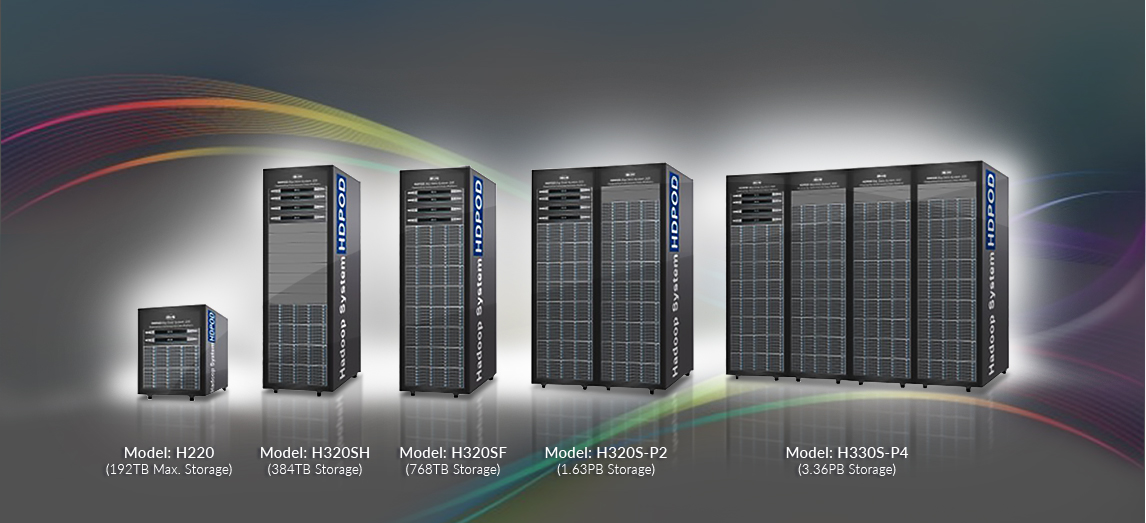 Hardware Components & Specifications
H220SH
H320SF
H320S-P2
H320-P4
Network Fabric
• Aggregate/ Data Storage Switch:
1U, 36x 40/56GbE QSFP Ports Ethernet Switch
2
2
4
8
• Management Switch:
1U, 44x 1GbE RJ45, 4x SFP Ports Ethernet Switch
1
1
2
4
Cluster Management Server Appliance
• Management Node Server:
1U, IRON iServer Single Node, 2x 10GbE & 1-IPMI Ports
1
1
1
1
Name Nodes for Hadoop
• Nodes (Master Server)
2U, IRON iServer Single Node, 2x 10GbE & 1-IPMI Ports
3
3
3
3
• CPU:
Intel Dual Socket, 12 Core, 2.6Ghz CPU (Total 24 Cores/Node)
• Memory (GB):
96, 128, 192, 256, 384 & 512 Options (256GB default)
• Disk Drives
Number of Disks – 10x; 900GB 10K RPM (per Node)
Three nodes: 1x Primary named node, 1x Secondary named nodes (+HBase Master, Hive Server), 1x Job Tracker node
Data Storage Nodes for Hadoop HDFS
• Blade Enclosures:
4U, IRON iServer, Quad Node Blade Chassis (4 blades)
4
8
17
24
• Nodes ( Server Blades):
4 Server Nodes/Chassis, 2x 40Gbe LAN & 1-IPMI Ports
16
32
68
140
• Processors (CPU/Cores):
Dual Socket, 6 Core, 2.0Ghz CPU (Total 12 Cores/Blade)
32/192
64/384
136/816
280/1,680
• Memory (GB):
96, 128, 192, 256, 384 & 512 Options (128GB default)
2,048
4,096
8,704
17,920
• Disk Drives
Number of Disks – 6,8 or 12 per Node (6 default)
96
192
408
840
Total Disk Capacity (Raw*)
1TB, 2TB, 3TB & 6TB SAS (4TB default)
384
768
1,632
3,360
*Capacities listed uncompressed (3x compression assumed typical) without Compression
Total Disk Capacity (Usable)
Usable mirrored capacity (appr.)
192
384
816
1,680
Total Disk Capacity (Usable)
Usable Triple mirrored capacity (appr.)
128
256
644
1,120
Additional Hardware and Software
• Rack
IRON 42U Rack, Redundant PDUs
1
1
2
4
• KVM
IRON Keyboard/Mouse/Video Display Console, Optional
• Software (System)
Linux Operating System, 64bit
Microsoft Windows Server 2012 R2 Optional
• Software (Add-On), Optional
Data Protection for Volume & MapReduce layers
Dynamic Data Set management, metadata, and data lineage